Health and Safety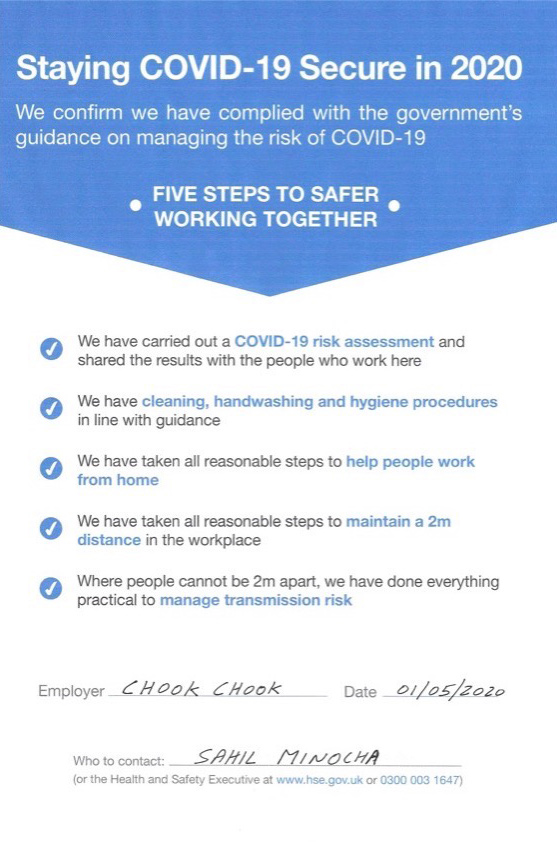 While we're excited to be reopening, our number one priority remains the welfare of our valuable guests and our team as we take these first steps together.
To ensure that our team and our guests feel safe in our restaurant, we have undertaken a risk assessment for the restaurant based on government guidance.
Here are some of the measures we have introduced for our team:
We've carried out a full risk assessment and implemented measures to create a safe environment
All staff have been trained on safe distancing and hygiene procedures
All employees temperatures are checked each day upon their arrival to work
New reconfigured seating arrangement in line with Government social distancing rules to create a safe dining environment
Deep cleaning and disinfection of the restaurant with significantly increased cleaning protocol every night
The team will be carrying out sanitisation checks on high contact surfaces and touch points at least twice every hour
All tables and chairs are fully cleaned after use
And here's how you can help during your visit
Some queueing may be inevitable, so we may ask you to wait outside if we don't have a table ready for you right away. We do appreciate your patience.
We request all guests to maintain a safe distance from other groups while waiting.
If you or any of your guests are displaying any symptoms which could be related to coronavirus ahead of your visit, you must stay at home and follow the government guidelines
All menus will be recycled after one use
Hand sanitisers are available at the entrance, on your table upon request and in the bathroom
It is the responsibility of guests to ensure they are remaining within their social distancing bubbles at all times.We also ask you to make sure you follow the government guidelines on meeting people outside your household, i.e. no more than two households can dine together.
Thank you for your support and commitment to working together to reduce the spread of COVID-19. Please remember your health and safety is absolutely paramount to us.